Parking passes will be available starting December 19th.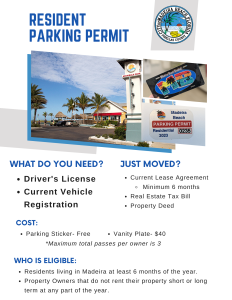 For 2023, we are rolling out Resident Parking Vanity Plates for an upcharge. This will allow residents to get a parking pass without adhering to a sticker on the car. Proceeds will go towards the parking garage fund.
Documents needed to get a pass:
 Vehicle Registration

 Driver's License

 Lease Agreement or Real Estate Tax Bill (if the name does not match the Property Appraiser site)

Lease must be at a minimum 6 months.

 If a new car is purchased, bring in your new car registration to get a new sticker. We will void the old one and update our system.
Vanity Plate Info: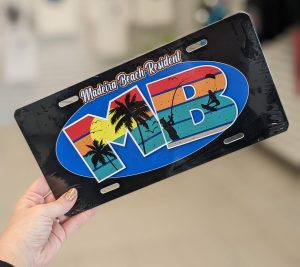 The cost is $40 per plate per year

 Vanity Plate will be included in the three passes per family allotment

 Vanity Plate must adhere to the front bumper of the vehicle

 Vanity Plates are non-transferrable; they are linked to a specific vehicle

 Parking tickets can be incurred if Vanity Plate is not adhered to correctly or on the incorrect vehicle

 If a new car is purchased, bring in the vanity plate and the vehicle registration. We will update the information in our system.
Reminder- Owners renting their properties are not eligible for parking passes. The City of Madeira Beach reserves the right to refuse or revoke parking passes.