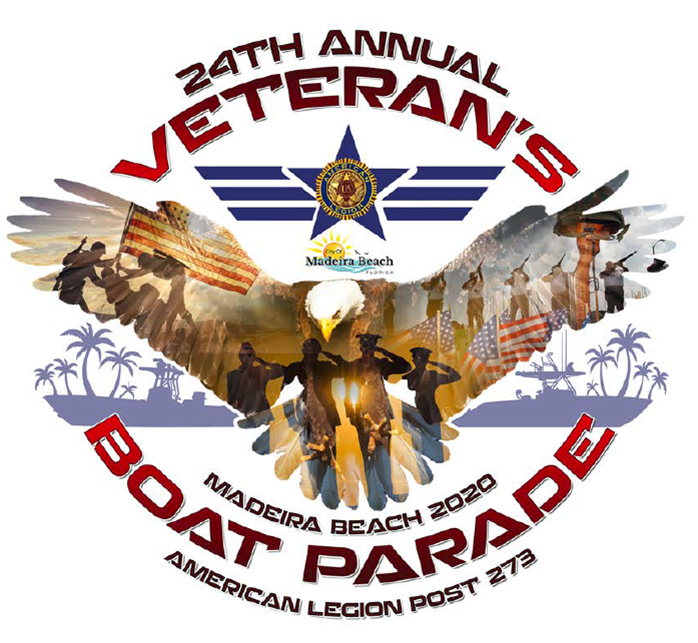 The City of Madeira Beach and the Veteran's Boat Parade Committee are proud to announce that the 24th Annual Veteran's Boat Parade will take place November 14th beginning at 10:00 am. The parade will begin at the American Legion Post 273 and will follow its usual route within the intracoastal traveling south along the shores of Madeira Beach. The Captains' Meeting, which will provide route details, pick up of boat numbers, and raffle/fundraising activities will take place November 12th at 6:30 p.m.  In an effort to ensure proper physical distancing and following of CDC guidelines, both the Captains' Meeting and the post parade awards will take place outdoors at the Madeira Beach Municipal Marina. Registration for the Boat Parade is available at VeteransBoatParade.org.
'We are excited to help find a way for the event to take place during these tough times' said Madeira Beach City Manager Bob Daniels, 'Our Veterans mean a lot to our community of Madeira Beach and it's important that we are able to show them the respect they have earned and the support they deserve'.
The Veteran's Boat Parade was founded in 1996 by a collective of residents in Madeira Beach and Treasure Island. Currently the Boat Parade is organized by Madeira Beach Residents Pam Rasmussen and Capt. Rodger Gerstung, along with numerous volunteers and support provided by community sponsors. Throughout the year, their organizing members attend events raising awareness and funds to put on the Parade as well as raise funds to help support local veteran organizations. For more information visit VeteransBoatParade.org or on Facebook at Facebook.com/AnnualVeteransBoatParade.
Contacts:
Pam – Pam@VeteransBoatParade.org
Rodger – signmansez@gmail.com
Event Facebook Page: Click Here