Gulf Beaches Rotary Spring Break Waterfront Festival
3:00pm - 7:00pm
R.O.C. Park
200 Rex Place, Madeira Beach, FL 33708
---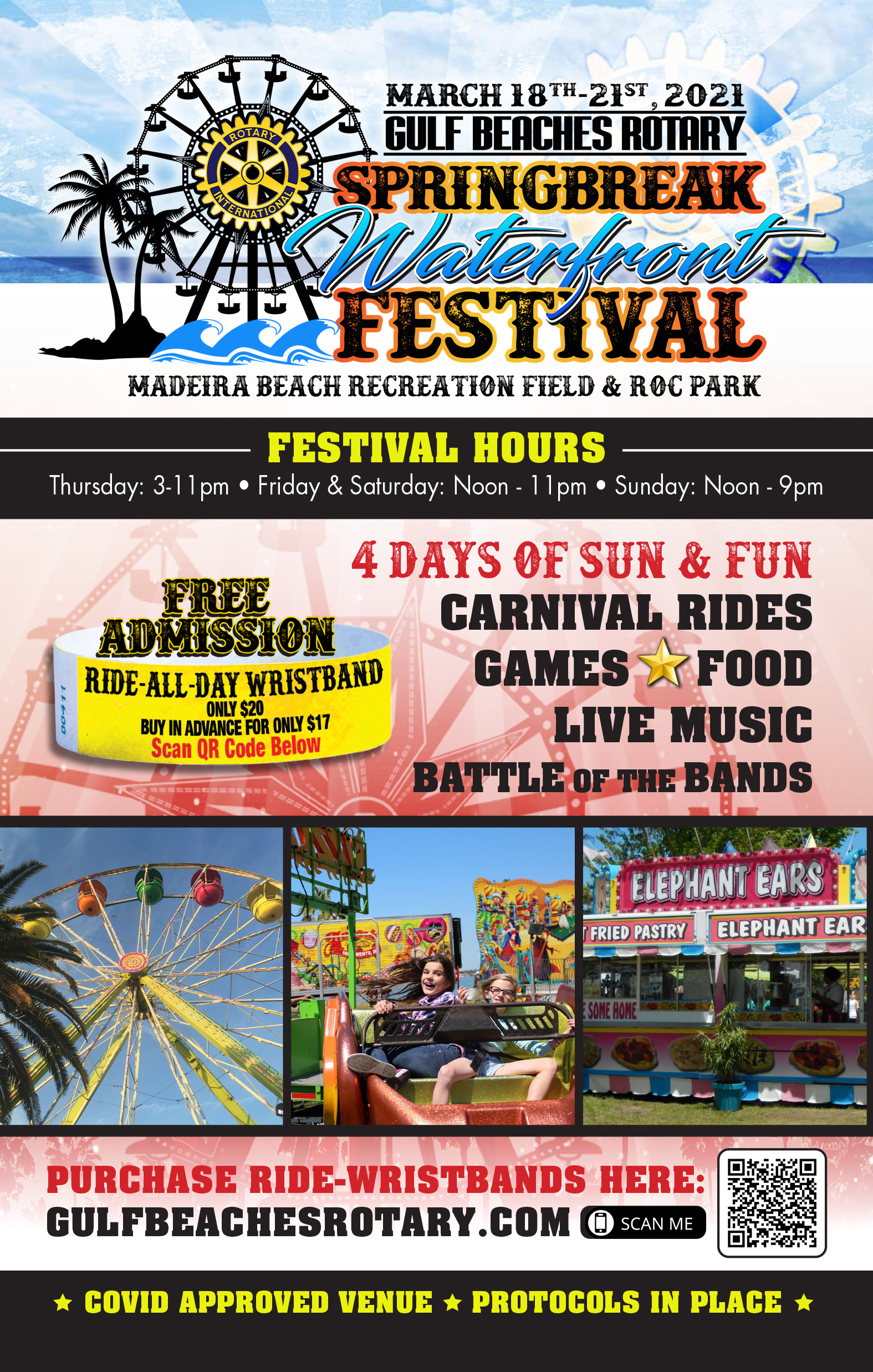 The Gulf Beaches Rotary Club in partnership with City of Madeira Beach will host the Annual Spring Break Waterfront Festival, which will take place at the Madeira Beach Recreation Complex & ROC Park located at 300 Municipal Drive from Thursday, March 18 through Sunday, March 21, 2021. This 4-day, fun-filled event will offer a collection of carnival rides provided by Arnold Amusements, live entertainment as well as awesome food and craft vendors.
ADMISSION IS FREE!
Presale Purchase Ride Wristbands
Here
for $17
COVID-19 Plan
*In an effort to adhere to the Pinellas County COVID-19 event requirements, all attendees, volunteers, and staff will be required to wear a mask and utilize proper social distancing.*
Additionally, the event will be limited to two entrances which will have temperature checks upon entry.
The Gulf Beaches Rotary Club has donated over $50,000 to local charities in 2019. The Spring Break Festival is the clubs signature event and largest fundraiser each year. Proceeds from this event will benefit local charities and other non-profit organizations.
Event Hours
Thursday: 3-10pm
Friday and Saturday: Noon – 10pm
Sunday: Noon – 9pm
Entertainment Schedule
Thursday – 3/18
Battle of the Bands – 6:30pm
Friday – 3/19
Battle of the Bands – 6:00pm
Karaoke w/ DJ Doug – 7:00pm – 10:00pm
Saturday – 3/20
Sandy Bottom Boys – 2:00pm – 4:00pm
Toby Keith Tribute – Prepare to Party Band – 5:00pm – 7:00pm
Pirate Flag – 8:00pm – 10:00pm
Sunday – 3/21
St. Pete Sons – 2:00pm – 4:00pm
Luna Blue – 5:00pm – 7:00pm
Parking