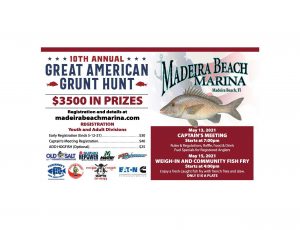 Make sure to join us at the Grunt Hunt this weekend! Here is a list of events going on:
Thursday, May 13th, 7:00pm- Captain's Meeting at the Marina

Rules, regulations, raffles, food & drinks
Take advantage of fuel specials for registered anglers!

Saturday, May 15th, 4:00pm- Weight In & Community Fish Fry

Enjoy fresh caught fish with french fries and slaw
 Raffles, drinks, merchandise
There is still time to sign up as an angler, click here for registration!