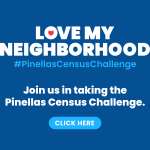 The City of Madeira Beach wants to know, have you been counted yet? The 2020 Census will be ending on September 30th, and every resident of Madeira Beach is encouraged to participate. The best part is you don't have to leave your home or office! Just click the "Love My Neighborhood" button on the front page of the city's website to begin the easy 10-minute process of making your voice heard.
"It is vital that every resident participate in the census, particularly in small communities like Madeira Beach," said City Manager Bob Daniels. "The data collected by the census is used to distribute billions in federal funds to local communities and in these tight financial times small communities like ours cannot afford to leave any money on the table."
The 10-minute process is also available online at www.my2020census.gov or by phone at 844-330-2020. Madeira Beach will also promote participation with a social media campaign linked directly to the 2020 Census online portal.
For more information, contact Curt Preisser, City of Madeira Beach Public Information Officer at 727-391-9951 x299 or cpreisser@madeirabeachfl.gov.
Under Florida law (Florida Statute 668.6076), email addresses are public records. If you do not want your email address released in response to a public records request, please do not send electronic mail to the City of Madeira Beach. Instead, call the appropriate department/division.