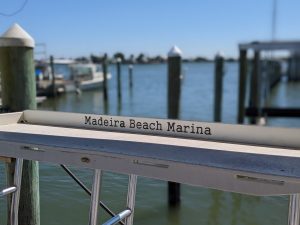 Continuing with Florida City Government Week we are going to highlight the Madeira Beach Municipal Marina!
From fuel and bait to Madeira Beach Marina hats/shirts they have you covered for a great day on the water! How do you know the Marina is popular? We have a waiting list for boat storage! Call today to be added, 727-391-9951 x 601.
The Marina also participates in local events such as the Nautical Flea Market/Trash Round Up as well as provides fuel for participants in local fishing tournaments like King of the Beach. Two of Madeira Beach's favorite events are also run by the Marina, the Festival of Lights (12/10/2022) Boat Parade and the Grunt Hunt (March 2023). Registration is now open for the 56th Annual Festival of Light Boat Parade, sign up with the link below: https://madeirabeachfl.gov/festival-of-lights-holiday-boat-parade/.
Whether you are looking to go out on the water or just want to see what is new at the Marina ship store, the Marina staff look forward to welcoming you!
Helpful Links: