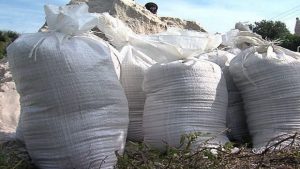 WHEN TO REUSE: 
Any sandbags which did not come into contact with floodwaters can be safely reused or stored. We do recommend keeping any sandbags that did not come in contact with flood waters as we are not out of hurricane season yet and it will save you a trip for the next storm that approaches.
HOW TO STORE SANDBAGS:
If you want to keep the clean sandbags for a potential future flooding event, make sure to store them in a dry place preferably indoors or undercover. A great tip is to get a garbage can with lid and keep the bags in there. Make sure the garbage can is in a garage or undercover to help keep water away from the sandbags.
WHEN TO DISPOSE: 
Sand and sandbags that have been in contact with floodwaters may be contaminated with sewage or septic waste, animal waste, oil and gasoline residue, lawn chemicals such as fertilizers, pesticides and herbicides, or other hazardous chemicals. Caution should be used to avoid direct human contact when handling sand or sandbags. Wear gloves and a dust mask, if there is loose or blowing material. Do not place used sand in or near bodies of water, playgrounds, sandboxes, or other areas of direct human contact.
HOW TO DISPOSE: 
Spread sand on lawns or landscape beds and place the bag in your garbage.