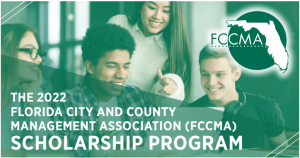 Calling all High schoolers interested in a career in Public Administration!
The Florida City and County Management Association (FMMCA) is committed to supporting students pursuing education and careers in public administration.
We offer up to four academic-based scholarships:
$5000 B. Harold Farmer Scholarship
$5000 The Raymond C. Sittig Scholarship
(2) $2500 Aspiring Professional Manager Scholarships
Recipients are chosen based on student's ability to demonstrate their understanding and support of local government management and the principles on which each scholarship was founded.
Qualifying students must submit a completed application, official transcripts and letters of recommendation by February 1, 2023, to be considered for these awards.